Automated Guided Vehicle (AGV) & Autonomous mobile robots (AMR)
Automated Guided Vehicle / AGV robot
An automated guided vehicle also referred to as AGV is an autonomous robot that moves along a planned path using various technologies. Generally used to transport goods, raw materials, pallets, or any other item for industrial or logistic applications, it is dedicated to the automation and optimization of the various flows. It interacts and collaborates with workers in order to lighten repetitive tasks representing no concrete added value.
There are several types of AGV & AMR depending on the tasks to be carried out: AGV shooter, crawling AGV, AGV train, AGV carrier. The technology used by Isitec International is simple, efficient, robust, and easily scalable to the company changes. The BTA is a substitute for forklift drivers or in some cases for conveyors. 
Controlled by WCS Isipick®, the Automated guided vehicle solution – provided by Isitec International – will allow you not only to connect your AGV/AMR to your WMS / ERP system but also to all your other support tools for production or order picking.
AGV Shooter
Simple and effective technology of "karakuri"
The AGV shooter will load and unload automatically the containers (boxes, carton cases and pallets) by a gravity system. This solution the said "karakuri" in Japanese presents the advantage of being 100% mechanical, and it reduces therefore the automation costs.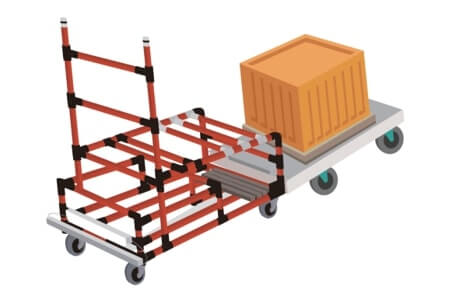 Crawling AGV
Ideal for use in confined areas.
Widely used in the automotive industry and now by the big market places, the crawling AGV will pass under the cart or the roller furniture to be carried, then will hook it by a system of "pin hook" in order to convey it. The objective of the crawling AGV is to optimise its length with its cart and thus to be able to pass into more confined spaces.
AGV Train
Optimise the movements of your AGV
Very common in the industry, the AGV train, as its name suggests, will serve as a locomotive to take charge of the wagons (one or more) from one station to another. Equipped with an LED pointer, the AGV train make it possible to carry out dynamic Pick and Put to light. A true revolution.
AGV Carrier
The AGV of the factory of the future
The AGV carrier will replace the "old world" conveyor systems. In Industry 4.0, the AGV carrier will simplify the installations and make them more scalable.
No more fixed installation by rigid infrastructures, bring the LEAN management to your inventory with the AGV carrier.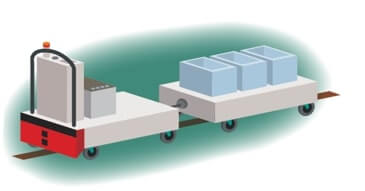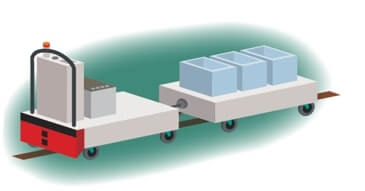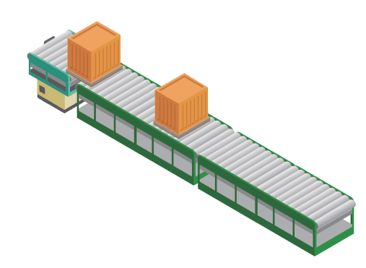 Let's find the right solution for you
Automated guided vehicles comes with various capacities and with various technologies.   Contact us so we can discuss your needs and put in place the right solution for you. 
What is an AGV / AMR?
An AGV (Automatic Guided Vehicles) or AMR (Autonomous Mobile Robot) is an autonomous vehicle that moves autonomously along a planned path using various technologies such as magnetic line, track, laser or GPS.
It is generally used to transport goods, raw materials, pallets or any other item. Initially used in an industrial environment, it is also increasingly used in warehouses, for example to transport products from one workplace to another.
This  autonomous driverless cart can move along a planned path, orienting itself in space thanks to various technologies, such as:
Magnetic tape

color track

rails

laser

camera

GPS
The self-guided trolley is battery operated and is equipped with a safety system, as well as various additional mechanisms, such as a mechanism for charging and unchanging loads. Its main task is the handling of objects (goods, pallets, boxes, etc.) and is also used to lift and stack loads.
Glovescanner allows the operator working in production and logistics to evolve hands-free.
What is AGV / AMR used for ?
In fact, by using AGV systems, you will improve handling efficiency and thus increase productivity. Among the advantages of AGV systems, it should be noted:
24-hour operation
Since an AGV does not need drivers to operate, it can work every day and even at night.

You just need to plan the battery recharging time between two operations.
The use of AGV systems guarantee the Safety of loads and your staff
We know that AGVs are programmed to follow precise routes, which is why their movements are always monitored to better control real-time movements and deliveries.

Thanks to the safety devices fitted to the AGVs, collisions with the various operators are prevented along the way.

With an accuracy of around 10mm, AGVs can position a load precisely. This allows them to eliminate any damage that usually occurs with manual movement.

Equipped with detection and safety sensors, the AGV stops in front of an obstacle to avoid collisions.
Improvement of the working conditions of operators and reduction of diseases to the musculoskeletal system (BMD)
Thanks to AGVs, complex and repetitive handling tasks for heavier loads are more easily managed by operators.

AGVs allow the creation of more complex tasks by operators.
Lower production costs
Reduced labor costs, efficient, safe and economical transport of your goods.

All this allows you to quickly increase the recovery rate.
AGVs can operate in areas inaccessible to people, due to extreme temperatures or hazardous materials
Loading trolleys
These are vehicles capable of transporting one type of article (roller, motor), pallet or container with articles.
Forklifts
They are used to move pallets.

Many models have sensors on the forks (eg infrared sensors).
Automatic towing vehicles
These are motorized vehicles capable of dragging with them one or more non-motorized cargo vehicles.

Their load capacity can reach 8 tonnes.

They are also equipped with platforms that can be raised, lowered, motorized rollers, belts, etc. to ensure the automatic transfer of goods.
Obtenez la brochure du produit
Isitec International, a key accelerator for the development
Each logistics solution we design is fully adapted to the company requirements. From its design, installation, and commissioning by all collaborators, we take care of each step. For more information about a solution, please contact our teams by phone, or by filling out the contact form.
Increase your traceability