Pick to Light & Put to light system
Pick to Light
Pick to Light also known as Pick By light is a logistic  solution that assists operators in various logistic processes: order picking, stocking (Put to light), kitting.
Based on the Pick To Light technology, it guides the operators with lights that indicate the target locations.
The Isitec International Pick to Light system greatly optimizes productivity, eliminates picking errors and improves operator ergonomics.
Isitec offers a wide range of modules and buttons. These are of a particularly reliable technology and have been approved for over 10 years. Thanks to its quality and its multiple applications, the Pick To Light system brings a very interesting TCO (Total Cost of Ownership) rate.
Companies such as Peugeot and Faurecia have chosen our software and hardware solution to gain efficiency and optimize processes in many factories around the world.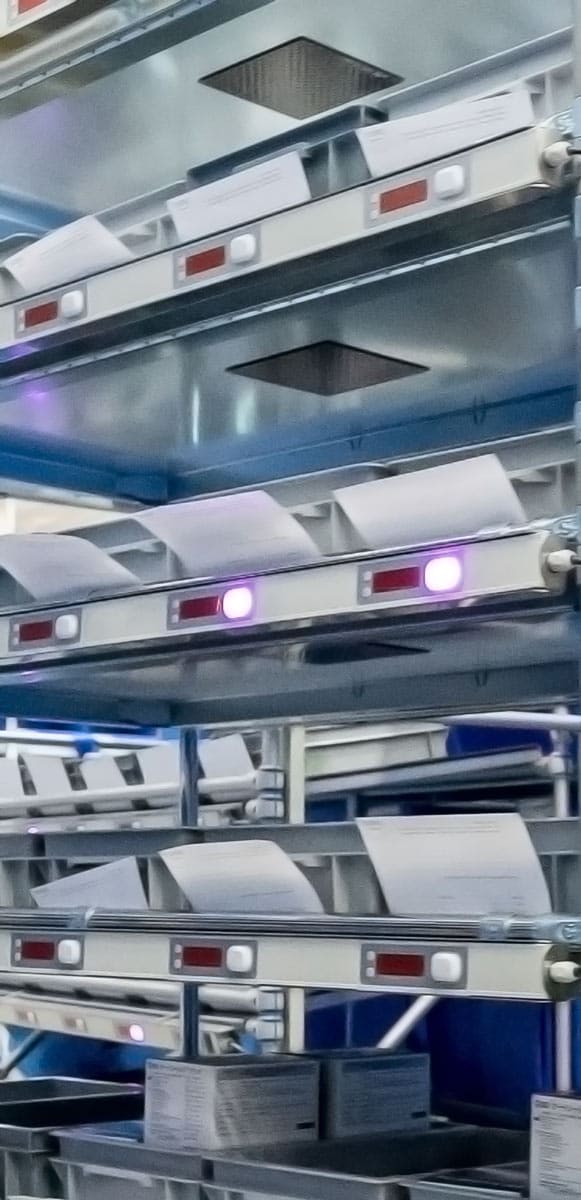 A full range of innovative Pick to Light solutions
Isitec International's Pick By Light solution adapts to your company and your processes by offering a wide range of buttons, displays or LED ribbons.
This diversity allows us to meet every need by looking for efficiency in every storage and picking area.
Push-button modules
Isitec International's push-button modules are robust and easy to program via our software. They can be equipped with a display to indicate to the operator a quantity or a product location.
Contact one of our consultants to see the range of displays available
Led ribbon
The LED ribbon is the most economical and flexible solution to optimize picking operations. Its low cost makes it attractive when large storage areas are to be equipped. This thin and easy to install device can be adapted to any type of rack, regardless of its location or configuration.
LIDAR modules can be added to the LED visual guide to control picking and optimize security.  The lidar validates the correct sampling with the software and alerts the operator in case of error.
LED Pointer
The LED Pointer is a simple to install and parameterize device. It indicates the picking or deposit location by lighting it up.
Exploit all the benefits of Pick to Light
Composed of experienced specialists, the Isitec International team accompanies you to benefit from all the advantages of the Pick to Light system:
Pick to light is the ideal product to optimize your company's logistics performance.
Thanks to its preparation control functions, Pick To Light improves quality and eliminates errors.
Pick to light is intuitive and easy to use, ideal for training pickers.
The lighted guidance systems allow for more ergonomic working and reduce the workload.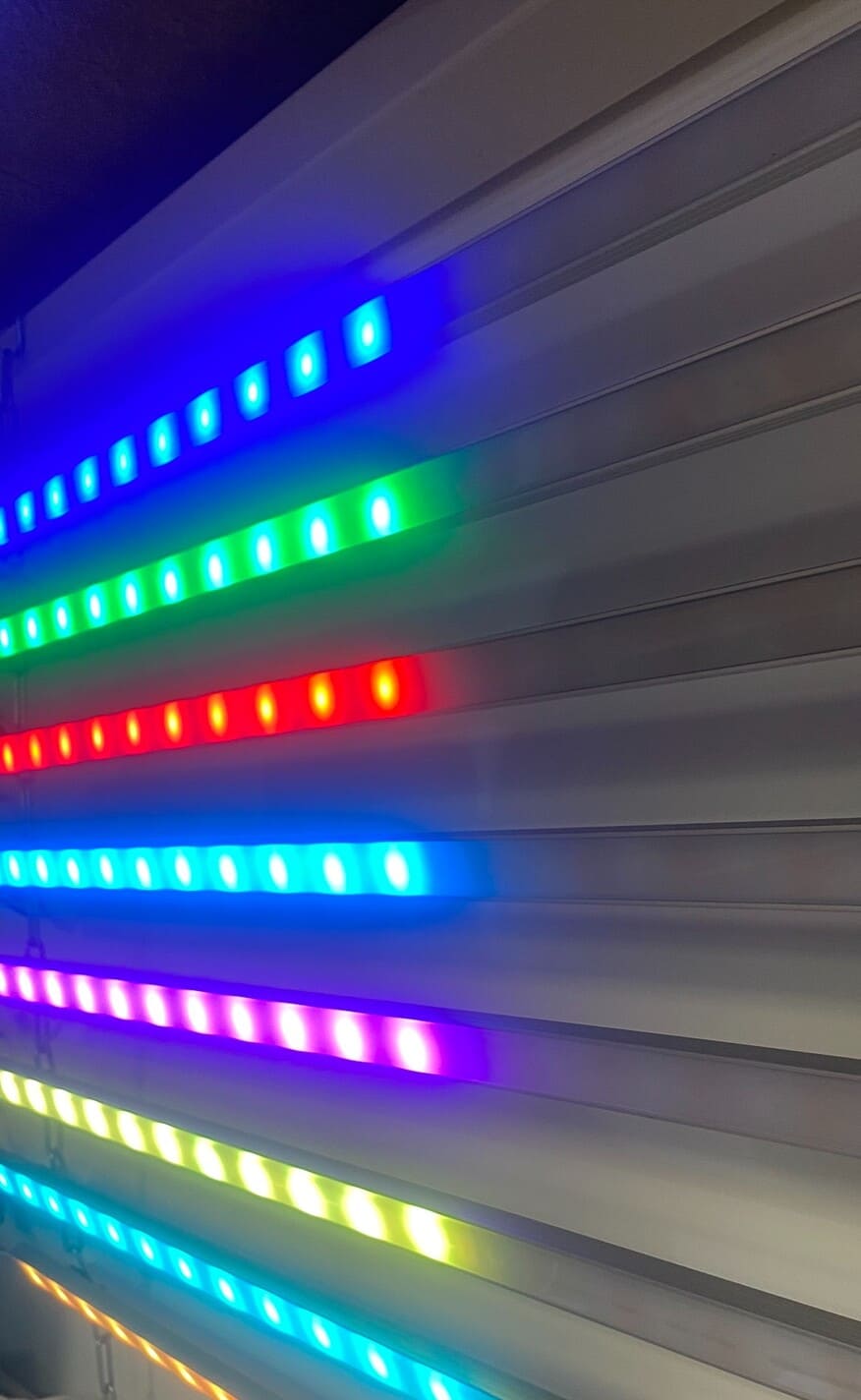 Effortlessly adapt this enhancement to your existing system
More than just a Pick to Light supplier, Isitec International provides you with a complete turnkey system to facilitate your order picking system.
The Isitec digital picking solution is designed for helping the picker and improve the management of the goods.
Pick To Light equipment:
Isitec International advises you to implement the most adequate equipment according to the products and items that make up your supply chain.
Isipick to light also interfaces with our Isipick By Balance check weighing systems to bring an additional level of security to picking.
Software:
Isipick By Light is driven by the Isipick warehouse control system. The Isipick WCS offers easy to use technical control interfaces and allows to visualize or parameterize the orders, the stock or the productivity.
Consulting & integration :
Isitec International's technical team consists of experienced engineers who analyze the benefits of each project, advise companies and help in the choice of solutions.
Our team also provides project management during all implementation phases.
Interfaces:
Isipick® WCS interfaces with your WMS to make your pick to light system efficient and tailored to your needs. Specific interconnections can also be set up with other warehouse management systems or ERP.
Developments :
Isitec is an editor and developer of IT products. We are therefore able to accompany companies on specific projects to implement customized solutions.
Modularity :
Our Pick to Light is compatible with all our products based on warehouse management:
– AGVs to save space and automate the movement of items
– Pick By Balance to improve accuracy and security by automatically controlling the quantity of each preparation
– Voice picking
– Our range of conveyors
– Our connected objects adapted to the warehouse and factory 4.0
– Our traps to increase safety during product picking
Connected to your WMS, the combination of these solutions increases the rate of optimization of your picking processes, picking, validation and improves the overall work of each operator in the warehouse.
The benefits of the Pick to Light technology
Flexibility
The Pick to Light system is easily integrated into the process already in place in the company. It is so intuitive that operators are trained  in less than 10 minutes. The use of temporary staff is extremely facilitated, as is the immediate replacement of an absent operator.
Efficiency
Stocks are managed optimally and reliably, all in real time for perfect management of your reserves. You gain in efficiency and your business benefits from the positive spin-offs of this innovation.
Reduce waste
This computer technology, by definition without waste, leads to a significant and appreciable reduction in waste and the cost of paper for the company.
Gain productivity
Automated processes are optimized for unparalleled productivity gains in human terms.
Avoid mistakes
Human errors are eradicated. The reliability of order picking is at its peak, and the error rate is in the order of less than 0.1%.
High ROI
The ROI (Return on Investment) is high. The costs incurred are quickly amortized by the benefits generated by this industrial management system.
Isitec International, a key accelerator for the development
Each logistics solution we design is fully adapted to the company requirements. From its design, installation, and commissioning by all collaborators, we take care of each step. For more information about a solution, please contact our teams by phone, or by filling out the contact form.
Increase your traceability
Pick To Light micromania
Discover one of the logistics facilities of the Micromania site in Bonneuil sur Marne equipped with ISIPICK To Light