Wheel sorter for big volume parcels – Isisort + ®
Isisort + ®
Modular and economic « Wheel sorter »
Isisort+® can sort up to 6,000 packages/hour and can handle packages weighing up to 35kg. The  "Wheel Sorter" Technology allows flexible and fast sorting. It can  support  a wide range of outlets such as postal bags, gravity chutes, conveyors…
This Solution is extremely modular :
Each module can sort in 1 to 4 directions with a combination of angles from 30° to 90°.

The number of modules is not limited, it is possible to add more later

The length of the sorter and the space between each outlet is modular.

It can have different types of modules depending on the products to be sorted.
The Isisort+  machine can also be connected to the Pick to light system for secondary sorting.
Isisort + Features
Supply
Isisort + can be directly connected downstream of your production line or can be fed manually
by one or several operators.
Reading
The encoding of the objects can be done automatically with the help of a reading station (scanner, camera…), by the operator via the voice (ISIVOICE®), in touch or via a numeric keyboard.
Weigh-in
ISISORT + can be equipped with a dynamic weighing module certified OTML.
Size measurement
ISISORT + measures and calculates the size and volume of your objects with an accuracy of 2.5 to 5mm.
Sorting module
ISISORT's pusher modules meet a wide range of applications (cartons, polybags, books, spare
parts.), up to 35Kg and 10000 pieces/hour.
Outputs
The number of outlets is not limited, their size is adapted according to the format of the objects to be sorted. The outlets are possible in bins, carts, or conveyors.
Container and saturation management
We can manage the presence of containers, the saturation, and the pre-saturation of the outputs. LED light strips allow visualizing the status of the saturations.
Dynamic display
Each exit is equipped with a dynamic display which is updated with the sorting plan. The operator always has access to the right information.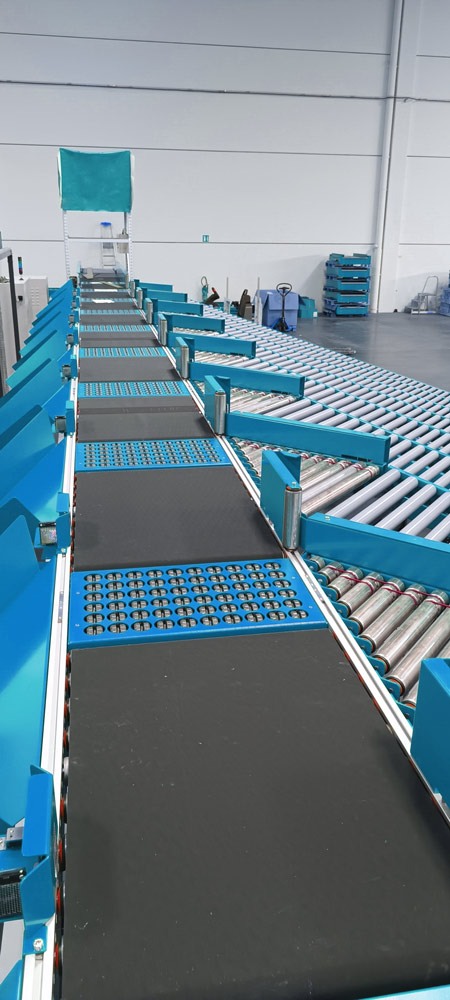 Isitec International, a key accelerator for the development
Each logistics solution we design is fully adapted to the company requirements. From its design, installation, and commissioning by all collaborators, we take care of each step. For more information about a solution, please contact our teams by phone, or by filling out the contact form.
Increase your traceability